meet the designer/songwriter
behind our singing stationery line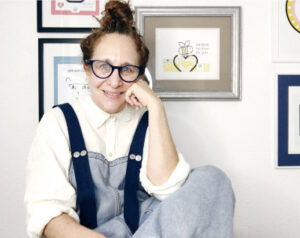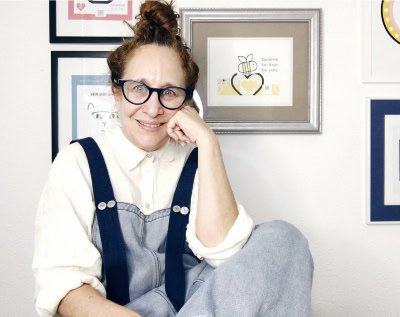 Smile Songs cards and gifts that sing help folks celebrate their best self with sunny, punny words, music and messages. Their art and messages are designed with your happiness in mind. Just use the cute QR or link and they'll literally sing to your soul, too.
– Sharon Glassman
  Smile Songs Designer/Songwriter, Founder
Smile Songs founder Sharon Glassman is a NYC fashion and lifestyle journalist turned Colorado gifts designer and songwriter.
She started making cards and gifts that sings for her music fans to fulfill a request: "If only we could take you home and put you on our walls so you could make us smile every day!"
It literally took some "out of the box" thinking for Sharon to create paperie that sings. To be honest? Her first thought was to explore making music boxes. But she quickly realized our smartphones are 21st century music boxes. And that greeting cards and gifts offer a timeless, tangible way to share the genuine love and encouragement folks crave, today more than ever.
After a few months of r+d, Sharon created the musical QR codes  and web links that make Smile Songs singing cards, stickers and gifts such a delightful fit with our smart phone-fueled lives.
The enthusiastic response to Smile Songs includes industry leaders, retails and consumers.
Infused with kindness, Smile Songs stationery sings to the senses. And warms the heart.