YOU ARE WHY WE DO WHAT WE DO
How you helped Smile Songs become a reality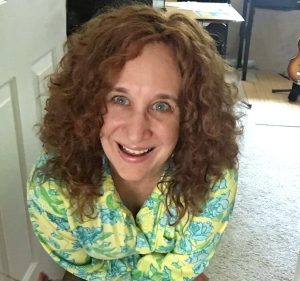 When kind-hearted folks smile at the happy messages and songs on Smile Songs art and wearables, I'm thrilled how our products help you boost your mood in naturally fun ways.
~ Sharon Glassman
  Designer/Songwriter, Smile Songs
Before I created Smile Songs, I was an award-winning songwriter and graphic designer. I never imaged these pieces coming together. Until audiences at my live music shows made a life-changing request:
Could I help them feel the fun, love and encouragement of my songs any time, anywhere? And so, I created my first line of singing art prints. Just scan the QR or use the web link on art and they literally sang happy messages to your eyes. Your ears and your heart. 
Honestly? I was worried that cheerful art that played optimistic songs might be too uncool for modern tastes.
But then …

Caring folks wanted my art prints as gifts of love for special people in their life. And themselves. I knew was on the right path.
So, I decided to create a full collection of art prints, inspirational quotes cards and wearable accessories that sang my songs.
Turns out …
The road from my first big eureka to the launch was more difficult than I'd imagined.
Doors closed …

when the studio where I planned to record my songs went out of business.
"experts" told me making art played music was "impossible."
Inspired by adversity …
I learned music production. Art production. And created a way to make the art sing.
Pneumonia KO'd my singing voice
for over a year.
But I was determined to share the encouraging messages folks needed to see and hear. On the upbeat art they loved.
I was breathless – on many levels! – when we released our first collection of Smile Songs art that sings. It was the hardest and most rewarding thing I've ever done.
The best part?
The response has been pure love from everyone who see and hears Smile Songs posters, cards and wearable art.
They stir the emotions in such a feel-good way.
By signing up I understand I'm opting in for Smile Songs promotions, sales, marketing and newsletters.