meet the designer/songwriter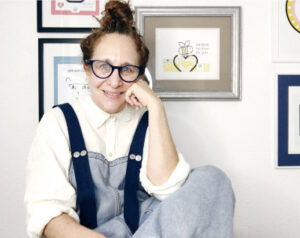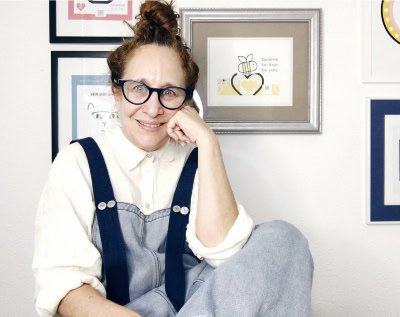 Hi! I'm an introverted, Brooklyn, NY fashion writer turned Colorado designer and songwriter of cards and gifts that sing. Proud player of multiple musical instruments. Self-taught designer. And passionate greeting card maker.
– Sharon Glassman                                                                 Smile Songs Designer/Songwriter
about our singing stationery line
Smile Songs got its start when a fan of my live music said, "If only there was a way we could take you home and put you on the wall so we could hear your songs and see the happiness you create!"
I loved this idea. But how could I do it? It took me a minute to realize that everyone loves greeting cards. I couldn't stop smiling! Being a greeting card designer was a dream of mine I'd put on hold while I pursued careers that I was "supposed to do."
Over the next few months, I learned digital graphic design. Created a home recording studio. Taught myself music production.
Now, how would I make my cards sing? After some R+D, I realized QR codes were perfect for smartphone lovers. More eco-friendly than plastic chips. And I could make them look pretty cute, too.
The response to Smile Songs musical greeting cards was so encouraging, I started adding songs to other things folks love: stickers, magnets, wall art. Their sunny illustrations, inspiring words and endearing, original songs are designed to delight your senses. Celebrate your best self. And help you send a smile to the special people in your life.
Inspired by the art of kindness, Smile Songs musical stationery shares the gift of happiness in a delightful, memorable way.
The story behind Smile Songs