Send a smile to your fave folks with a gift they'll love to keep around. Smile Songs sustainable singing greeting cards, stickers and accessories sing my handcrafted songs from cute QR codes on the art. A true delight for the young and young at heart. They're like getting two gifts in one.
I design with your happiness in mind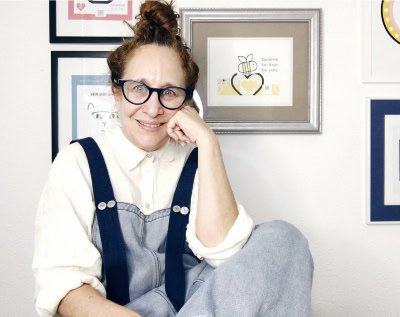 Smile Songs started with a request from a fan of my live music. "If only we could take you home and put you on the wall so we could hear your music and see the happiness you create every day!"
My answer: award-winning musical greeting cards and gifts that sing my joyful jingles for real life from eco-friendly QR codes on my handcrafted designs.
The response to Smile Songs has been truly wonderful. Kids and grown-ups jump for joy when they see and hear them. And isn't that what life's all about?
There's nothing else like Smile Songs. And they really do make folks smile.
— Sharon Glassman, Smile Songs Designer/Songwriter/Founder
Watch the video to see how I sing to you a joyful, handcrafted song from each design